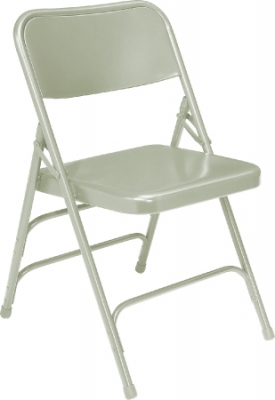 Request More Information
Folding Chairs are a mainstay in Fairgrounds, Churches and Community Centers across the country. Anywhere meetings or gatherings are held you are sure to sit in a folding chair!
We provide the very best All Steel Folding Chair available. We have provided folding chairs to Iowan's for over 20 years, first at the Monroe Table Company. Times have changed but these chairs have stayed consistent in quality and durability for over all of those 20 years and beyond.
These are Heavy Duty Chairs for Your Heaviest Clients!
The All Steel Chairs come in several colors: Beige - Gray - Brown - Black - Blue
Equipped with a Double hinge on each side of the leg to prevent that side to side breakdown and triple riveted braces, these chairs have a 480+ pound weight capacity and a 10 year warranty!
Tablet Arm Folding Chairs
Choose a Tablet Arm Chair that folds for your classrooms - easy to move or store! Available in Black with gray Tablet Arm.
Chair Carts available for every facility!
Ask us about Replacement Parts for your current folding chairs - we love to help you fix things!!
Documents & Videos for the All Steel Folding Chairs