Aluminum | Steel Chiavari Banquet Chairs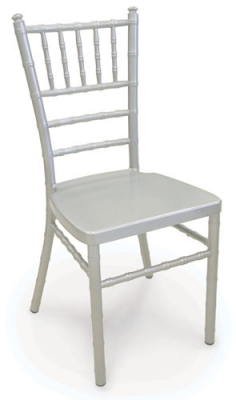 Request More Information
The Aluminum or Steel Chiavari Chairs offer the same Stunning look but with a durable steel or aluminum frame for long lasting durability! Our experts will provide the very best, rich looking colors with durability that is unmatched. Pair these chairs with a wood base vinyl or fabric seat for an elegant look. These chairs offer Deep, Rich colors that will stand the test of time.
Aluminum chairs are as light as 7lbs each making moving and storage a breeze.
Colors: Gold, Silver, Mahogany, Antique Bronze, Antique Chocolate & Black are in stock colors but more are available! Call for options!
FEATURES
Frames welded at each joint
Rich powder coat finish
High Weight Capacity (500# Steel) (1000# Aluminum)
Lightweight - Aluminum Chair weight: 7lbs
Stack 6-10 high
ACCESSORIES
Pads available in Fabric or vinyl cover, and in a soft velcro tie or the Wood Base cushion that will affix right to the chair - Ask for color options
Transport carts will help when moving and storing
Add a chair cover or sash for a custom look! A rainbow of colors is available
Documents & Videos for the Aluminum | Steel Chiavari Banquet Chairs