Cafeteria Tables | Fold Up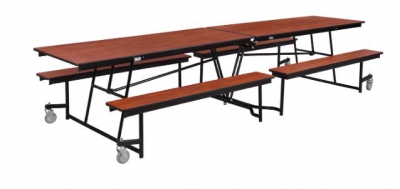 Request More Information
Mobile Cafeteria Tables
These tables are awesome not only for a School Cafeteria, but also in any Church Hall, Community Center or Child Care Center!
Move tables with ease - These tables fold in half up on to casters
Available in a variety of shapes, wood cores, color finishes, edge protection and frames
Built on a solid 14 gauge steel frame with tamper-free hardware, tabletops & benches are protected with high pressure laminate top and backer sheet - making them able to power wash clean!
Curved frame design, low to the ground, 11 gauge end tube add safety by eliminating trip points on entry/exit
Storage latch release handles are easily accessible from both sides of the tables without having to reach in. The storage latch automatically locks when folded for safety. The self-leveling automatic down lock engages at a partially opened position for safe, easy cleaning and again at the fully opened position. The caster lift-off safety feature prevents the tables from rolling while in use.
Call for options and details!