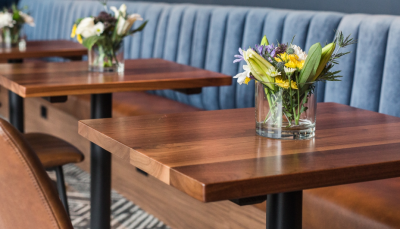 Request More Information
Restaurant Dining Tables
Create a dining room that not only attracts your guests but invites them to linger and enjoy their time! Enhance the space with the perfect tables and chairs to compliment any decor. Whether your dining room is casual or elegant we can provide the perfect table combinations.
We promise to find the very best products and work within your budget!
Features:
Round, Square or the Versatile Drop Leaf tables are available.
These tables are available in a Dining Height or Bar Height.
Top Options:
Laminate with a Supra Edge (edge to closely match top)
Laminate with Bullnose edge
Laminate with Wood Edge
Solid Wood Plank Tops
Solid Wood Tops
Design Choice Custom Thermo-Formed Tops
Laminate Self Edge
Padded Table Tops
Base Styles:
Traditional Cross Base
Round Base
Black or Chrome Finish
Documents & Videos for the Restaurant Dining Tables